Diamond Scoop Bat
LJD Diamond Scoop Bat for Hard Tennis Ball (Rowdy Edition) Players with Polish, and Toe Guard. Bat comes with a super punch and perfect balance.
---
Available offers
For Bulk Order or Dealership, WhatsApp us on +91-7409072042
EMI Option is available only on Credit Card
Bulk Savings (Buy more save more)
Estimated Delivery: Sep 29 – Oct 02
... people are viewing this right now
---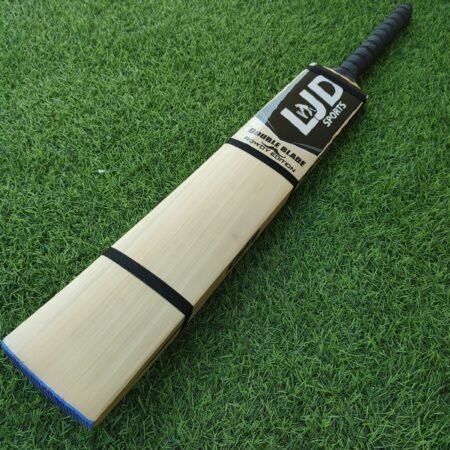 The Diamond Scoop Bat: Revolutionizing Tennis Cricket
Introducing the LJD Diamond Scoop Bat for Hard Tennis Ball – the ultimate weapon for dominating the game. We design our Bats to deliver exceptional power, durability and control.
Crafted with high-quality materials, the LJD Cricket Bat ensures optimal performance on the tennis ball cricket pitch. The carefully balanced weight distribution allows for effortless shots and precise ball placement. Its robust construction guarantees long-lasting performance, making it a reliable choice for intense matches.
The LJD Cricket Bat's unique design features a sturdy handle for a comfortable grip and reduced vibrations, enabling players to maintain control and play with confidence. Whether you're a beginner or a seasoned player, this bat enhances your skills and takes your game to new heights.
Experience the superiority of the LJD Diamond Scoop Bat and dominate every match. Shop now and elevate your cricketing prowess.
Featured of this LJD Best Cricket Bat for Tennis Ball –
Light Weight (980 – 1100 Grams)
Grade 1 Kashmir Willow
Upto 4.5 Inches Width
47 to 52 MM Thick
35 Inches
Semi Blade/Upper Blade
1 Month Handle Guarantee
Threading, Polish and Toe Guard
Premium Polish Or Buff
Machine Pressed for Super Strokes
Perfect for Hard Hitters
Free 1 Extra Grip
Cricket, a sport with a rich history and immense popularity, has seen numerous innovations and advancements over the years. One such innovation that has taken the world of tennis cricket by storm is the Diamond Scoop Bat. Combining cutting-edge technology with traditional craftsmanship, this revolutionary bat has transformed the way players approach the game. In this article, we will delve into the key features and benefits of the Diamond Scoop Bat and its impact on the sport of tennis cricket.
The Evolution of Tennis Cricket Bats
The cricket bat has evolved significantly over time, with manufacturers continuously striving to enhance player performance. The Diamond Scoop Bat marks a significant milestone in this evolution. It combines the classic shape and design of a cricket bat with state-of-the-art engineering to provide players with unprecedented power, control, and agility.
Key Features of the Diamond Scoop Bat
1. Scoop Technology: The most striking feature of the Diamond Scoop Bat is its unique "scoop" design. This innovative engineering creates a concave shape on the back of the bat, resulting in a larger sweet spot. The scoop technology allows players to generate more power even when the ball makes contact away from the center of the bat, making it easier to play attacking strokes.
2. Composite Materials: The bat's construction involves using advanced composite materials, such as carbon fibers and high-quality resins. These materials enhance the bat's strength and durability, ensuring it can withstand the rigors of intense cricket matches.
3. Lightweight Design: Despite its robust construction, the Diamond Scoop Bat is surprisingly lightweight. This characteristic enables players to wield the bat with ease, helping them execute quick shots and respond swiftly to the opposition's deliveries.
4. Improved Handle Grip: The bat's handle is designed to provide a comfortable and secure grip for the players. A superior grip means better control over the bat, reducing the risk of mishits and maximizing the potential for scoring boundaries.
Benefits of the Diamond Scoop Bat
1. Enhanced Performance: With the enlarged sweet spot and increased power, the Diamond Scoop Bat empowers players to play aggressive shots with confidence. This bat has been a game-changer for many tennis cricket players, allowing them to elevate their performance to new heights.
2. Versatility: The Diamond Scoop Bat is designed to adapt to various playing conditions and formats. Whether it's the fast-paced T20 matches or the more traditional longer formats, this bat proves effective across the board.
3. Faster Scoring: The bat's innovative technology enables players to find the gaps and time their shots better, resulting in more boundaries and quicker scoring rates. This aspect is crucial in limited-overs formats where every run counts.
4. Reduced Fatigue: The lightweight design of the Diamond Scoop Bat minimizes strain on the player's wrists and arms during extended periods of play, allowing them to maintain their performance and endurance throughout the match.
Impact on Tennis Cricket
The introduction of the Diamond Scoop Bat has revolutionized tennis cricket. Its popularity has surged not only among professional players but also among amateur enthusiasts. As players experience the benefits of the scoop technology and its impact on their game, the demand for the bat has grown exponentially.
Moreover, with players able to execute powerful strokes more easily, spectators have been treated to more exciting matches, filled with stunning shots and exhilarating chases.
Conclusion
The Diamond Scoop Bat has undoubtedly transformed the world of tennis cricket. Its revolutionary design, combining the best of traditional craftsmanship and cutting-edge technology, has empowered players to play with confidence, power, and finesse. As this remarkable bat continues to make waves in the cricketing world, we can expect to witness even more breathtaking performances on the field. Whether you are a seasoned player or an ardent cricket fan, the Diamond Scoop Bat is a testament to the remarkable innovations that shape the sport we all love.
Why Us?
LJD Sports, a Meerut-based company, is offering you the best quality products at the best price. We focus on quality more than quantity that's why we are one of the fastest-growing sports brands with 3000+ happy customers within 3 months. We deal in Double Blade Hard tennis bats, Leather bats (Kashmir Willow and English Willow), Sports Bags, Carrom Boards, and some other cricket accessories.
We also provide white labeling to the customers in which they can buy products from us with their logo or brand name and they can buy products in bulk quantity from us at factory price. Here are some of our point key-
You will get what you paid for
Worldwide shipping available
Easy Return available, if applicable
Quick response, Trustworthy and transparent work
| | |
| --- | --- |
| Weight | 2 kg |
| Dimensions | 91 × 10 × 5 cm |
| Brand | LJD Sports |
| Handle Type | Full Cane Handle |
| Height | 35/36 inches |
| Included | Polish, Premium Grip, Toe Guard |
| Material | Kashmir Willow |
| Model | Rowdy Edition |
| Weight | 1050 to 1100 Grams |