Malhar Scoop Bat
LJD Special Malhar Scoop Bat for Players with Polish, and Toe Guard. Bat comes with a super punch and perfect balance.
---
Available offers
For Bulk Order or Dealership, WhatsApp us on +91-7409072042
EMI Option is available only on Credit Card
Bulk Savings (Buy more save more)
Estimated Delivery: Sep 29 – Oct 02
... people are viewing this right now
---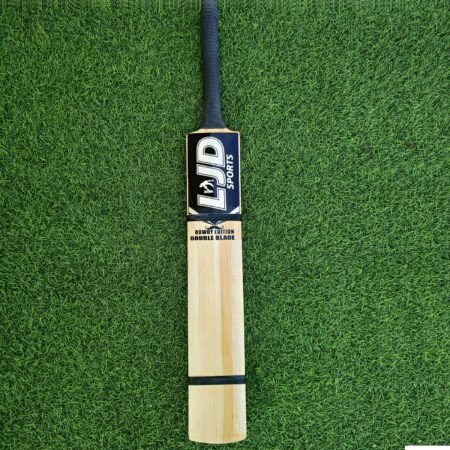 Malhar Scoop Bat
Cricket, a sport of finesse, skill, and innovation, has seen numerous changes over the years, and one area that has witnessed significant evolution is the design and technology of cricket bats. Batsmen are constantly on the lookout for tools that can enhance their performance and help them dominate the opposition. One such innovation that has taken the cricketing world by storm is the Malhar Scoop Bat.
Light Weight (980 – 1100 Grams)
Grade 1 Kashmir Willow
Upto 4.5 Inches Width
47 to 52 MM Thick
35 Inches
Semi Blade/Upper Blade
1 Month Handle Guarantee
Threading, Polish and Toe Guard
Premium Polish Or Buff
Machine Pressed for Super Strokes
Perfect for Hard Hitters
Free 1 Extra Grip
Unveiling the Malhar Scoop Bat:
The brainchild of cricket enthusiasts and engineers at Malhar Sports, the Malhar Scoop Bat is a revolutionary piece of equipment designed to provide batsmen with an edge in the game. The bat's primary feature is the unique "scoop" or concave profile on the back of the blade. This design element allows the bat to have a larger sweet spot, resulting in improved power-hitting capabilities.
Advantages:
Extended Sweet Spot:
The traditional cricket bat has a concentrated sweet spot somewhere near the mid-section of the blade. However, the Malhar Scoop Bat's innovative design extends this sweet spot throughout the back of the blade, increasing the chance of connecting the ball cleanly even on off-center hits.
Enhanced Power:
With a larger sweet spot, batsmen can generate more power in their shots. This becomes particularly advantageous in limited-overs formats like T20s where aggressive shot-making is essential to score quick runs.
Innovative Scoop Technology:
The scoop technology incorporated into the bat allows batsmen to effortlessly lift the ball over infielders, even on fuller deliveries, turning potential ground shots into aerial ones. This feature empowers batsmen to play a wider array of shots with greater precision and control.
Reduced Vibration and Shock:
The Malhar Scoop Bat's design is not only about power but also about comfort. The scoop structure absorbs and disperses the impact's vibrations, minimizing the shock felt by the batsmen on contact with the ball.
Suitable for All Formats:
While the bat's power-hitting abilities make it ideal for shorter formats, it doesn't compromise on performance in longer formats like Test cricket. Batsmen can still rely on its conventional Strokeplay when the situation demands it.
Customization Options:
Malhar Sports provides customization options for the Scoop Bat, allowing batsmen to choose their preferred weight, handle type, and grip, ensuring that the bat feels like a natural extension of their hands.
Critics and Controversy:
As with any revolutionary innovation, the Malhar Scoop Bat hasn't been without its share of critics and controversy. Some traditionalists argue that the bat's design gives batsmen an unfair advantage and tilts the balance too much in favor of the willow-wielders. However, proponents of the bat contend that it merely rewards skill and precise timing, which are essential attributes of modern cricket.
Impact on the Game:
The Malhar Scoop Bat has already left a significant impact on the game of cricket. Several prominent cricketers have adopted the bat, and their performances bear testimony to its effectiveness. Not only has it changed the way batsmen approach their innings, but it has also influenced bowlers and fielding strategies. Bowlers have been forced to evolve their tactics to counter the aggressive intent of batsmen wielding the Scoop Bat.
In a game that continually embraces change and innovation, the Malhar Scoop Bat stands out as a game-changer in its own right. Redefining power-hitting and offering cricketers a potent tool to take on bowlers, this bat has captured the imagination of batsmen and fans alike. As technology continues to push the boundaries of the game, the Malhar Scoop Bat will likely be remembered as one of the revolutionary pieces of cricketing equipment that reshaped the sport's landscape, empowering batsmen to take on challenges with confidence and flair.
Why Us?
LJD Sports, a Meerut-based company, is offering you the best quality products at the best price. We focus on quality more than quantity that's why we are one of the fastest-growing sports brands with 3000+ happy customers within 3 months. We deal in Double Blade Hard tennis bats, Leather bats (Kashmir Willow and English Willow), Sports Bags, Carrom Boards, and some other cricket accessories.
We also provide white labeling to the customers in which they can buy products from us with their logo or brand name and they can buy products in bulk quantity from us at factory price. Here are some of our point key-
You will get what you paid for
You will get images of your order before packaging (only when ordering in bulk quantity)
Worldwide shipping available
Easy Return available, if applicable
Quick response, Trustworthy and transparent work
Malhar Scoop Bat
LJD Special Malhar Scoop Bat for Players with Polish, and Toe Guard. Bat comes with a super punch and perfect balance.
Product SKU: CCDGDSCC-1-1
Product Brand: LJD Sports
Product Currency: INR
Product Price: 2150
Price Valid Until: 2023-10-31
Product In-Stock: InStock
Pros
Pure Kashmir Willow Grade 1 Wood
Full Cane Singapore Handle
Toe Guard and Threading Included
| | |
| --- | --- |
| Weight | 2 kg |
| Dimensions | 91 × 10 × 5 cm |
| Brand | LJD Sports |
| Handle Type | Full Cane Handle |
| Height | 35/36 inches |
| Included | Polish, Premium Grip, Toe Guard |
| Material | Kashmir Willow |
| Model | Rowdy Edition |
| Weight | 1050 to 1100 Grams |
| Color | Natural |